Buying Guide - Spinning Wheels
Choosing your spinning wheel
Choosing a spinning wheel can be really daunting for a new spinner looking to buy their first wheel or even the seasoned spinner who's looking for an upgrade. So, to help you decide which wheel is going to be best for you we've created this buying guide to help you understand the spinning terminology.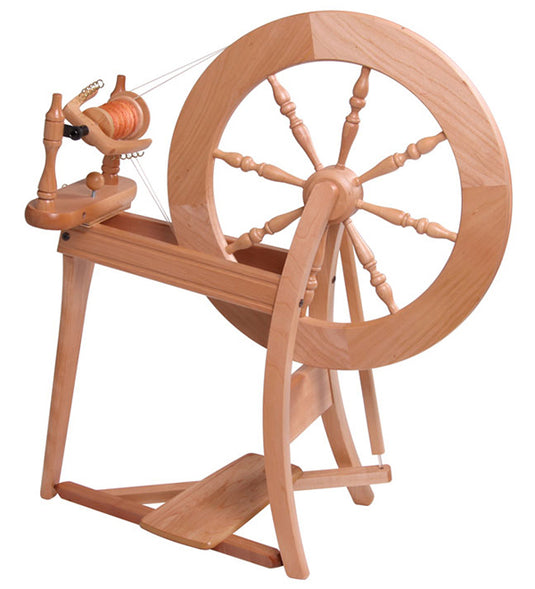 Single or Double Treadle? Or Electric?
The treadle is the part that you put your foot on to spin the wheel around. A single treadle wheel means you use one foot to spin the wheel on one treadle. A double treadle wheel has two treadles one for each foot to spin the wheel.
Which one is correct for you comes down to personal preference and the ergonomics of the wheel and you. Single treadle wheels are simple to spin on but some people don't like them if the treadle is positioned on one side of the wheel. Double treadle wheels are usually more ergonomic to spin on as both of your feet are working instead of one foot and making it easier to spin.
You can also get electric spinning wheels which require no treadles and uses a motor to create the spinning motion. These are great if you need to spin large quantities, or if you are not able to use you feet to treadle for periods of time.
However, it really does come down to personal preference and some people adore single treadle wheels and others love double treadle. This is why we have as full a range of wheels available for you to try before you buy so that you can sit down and see which one feels right for you. You are more than welcome to try them at our studio.
Irish Tension, Scotch Tension or Double Drive?
The tensioning system on wheels controls the rate of pull of yarn onto the bobbin as wheel as the spinning action of the wheel. There are 3 types of tensioning system. Some of the wheels we supply can only be configured in one of these tensioning systems but a number of them can be used in two or even all three of the systems as suits your preference and requirements.
Irish Tension
This is the easiest system for beginners as the drive band from the wheel goes over the whorl on the bobbin and spins the bobbin to create the twist in your fibre. It's a very simple set-up and only needs a brake band when the bobbin starts to fill up. 
Scotch Tension
Scotch tension gives you a bit more control than Irish as the drive band goes around a whorl that is seperate to the bobbin and flyer and the bobbin take up of yarn is managed by a brake band around the bobbin. This helps to give more control on the twist of the yarn and also makes it pull less than an Irish Tension wheel.
Double Drive
In double drive the drive band is looped around the wheel twice and one part of the band goes over a small whorl on the bobbin and the other goes around the separate whorl on the wheel. This goes the smoothest take up of all systems on the yarn onto the bobbin.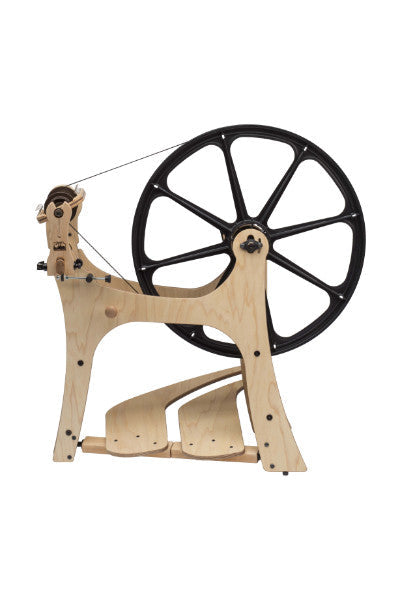 Travel Wheels
If you're going to be travelling a lot with a wheel then it may be worth getting a folding travel wheel to make your life easier.
Due to their compactness travel wheels are great to carry about and you can even get carry bags to make this simpler. 
Don't be fooled by their size though as they are vary capable wheels and spin as wheel as their non-folding siblings.
Flyers and Bobbins
There are a range of different flyers (the part of the wheel with two arms that the yarn loops through and 'flies' around before winding onto the bobbin) and bobbins (the part that the yarn winds onto) available that are good for creating different yarns.
Art yarn and Bulky flyers and bobbins are ideal for creating thick and chunky yarns and have a large orifice (hole the twisted fibre goes through on the flyer) to allow such yarns to wind onto bulky bobbins. 
High speed and lace flyers and bobbins are good for creating fine yarns as they are set for winding at a higher speed to put in more twist which is needed for spinning finer yarns.
Standard bobbins and flyers are ideal workhorses for creating most types of yarn and come with all of our wheels.
Different Types of Spinning Wheels
Double Treadle Wheels
Ashford Kiwi 3
This popular spinning wheel is great for beginners as well as spinners looking to expand their collection. It spins using Scotch Tension and you can get High Speed and Super Flyer sets for it too. The treads can also fold up so that it can fit in a bag that is sold seperately.
Ashford Joy 2
This Scotch Tension travel wheel is available in single or double treadle. It also comes with its own bag. You can also get the Freedom Flyer for it to spin bulky yarns.
Ashford Country Spinner 2
If you want to make big art yarns then this is the wheel to get. Using Irish Tension and a huge bobbin this wheel is great for making highly textured yarn.
Ashford Traveller
A compact wheel that comes in either Scotch Tension or Double Drive this wheel is popular to those who want a more traditional looking wheel that spin great.
Louët S10C All Versions
Louët's S10C wheel comes in either Scotch or Irish Tension options as well as 3 different options for the wheel itself. This is a great solid wheel that can also be taken apart for travel into it's own bag that's sold seperately.
Louët S95 Victoria
The Victoria is our most popular travel wheel and for good reason as it is the smallest wheel that we sell. However, don't be fooled by its size as it spins fast and fine using Scotch Tension. It folds down quick and easy and can be carried with you in it's rucksack that is sold seperately.
Schacht Ladybug
The Ladybug wheel is a showstopper with its red wheel and cute wee ladybug that's in a different position on every wheel. This wheel can spin in Scotch and Irish Tension as well as Double Drive. It can also be carried easily thanks to it's useful handles.
Schacht Flatiron
With it's modern looks the Flatiron is a great option for those who want to spin fine yarns. Its large black wheel can be set up using Scotch and Irish tension as well as double drive. This is also the only Saxony wheel we sell that can be set up for either right or left handed spinning.
Schacht Matchless
The Matchless deserves its name as it is truly a beautiful wheel to spin on. It comes set up for Double Drive but can also spin using Scotch and Irish tension. With it's wooden wheel and smooth treadles it is a joy to spin on.
Schacht Sidekick
This travel wheel is different as the wheel is perpendicular to the treadles and is designed this way so it is easy to fold and travel with you. It spins using Scotch Tension and is a good sturdy wheel to take with you wherever you go.
Electric Wheels
Ashford E-Spinner 3
If you're looking for a small spinning wheel that can spin with minimal effort then the this is a great wheel for you. Using Scotch Tension and a motor to drive the flyer this wheel makes spinning simple and easy.
Ashford Super Jumbo E-Spinner
For precise control on making art yarns the E-Spinner Super Jumbo is a very good choice. Using the motor you can finely tune the speed the wheel spins the bobbin using Irish Tension. With it's huge bobbin you can easily spin some big large art yarns of your own.
Do you still have more questions about spinning wheels?
Contact Us
We hope that this guide has helped you decide what wheel is best for you. However, if after reading this you're still not sure or would just like some more information, then do please contact us as we're always happy to help you find the right wheel for you.
We do also have a range of demonstration spinning wheels available for you to have a go on. So, if you would like to try before you buy then again do get in touch to arrange an appointment.